THE ESPLANADE FACTS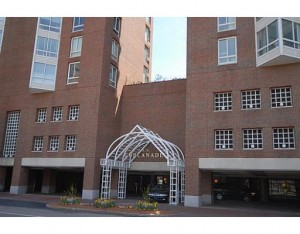 Located at the edge of the Charles River in East Cambridge, on one of the last available waterfront sites in the area, the 206 luxury residences at The Esplanade offer residents the best of several worlds the pleasures of waterside living and close proximity to both the vitality of Cambridge's university cultural center, and the verve and excitement of the Commonwealth's capital city.
The Esplanade was completed in the fall of 1989, and residents have the opportunity to enjoy spectacular river and skyline views, as well as the greenery of Eliot Park and Front Park.
The Esplanade is a development of The Cohen Companies, a Boston-based developer, owner and manager of commercial and residential real estate. The project was designed by world-renowned architect Moshe Safdie who achieved recognition for his design of Habitat for Montreal's EXPO.
The Esplanade was designed to bring many of the amenities often associated with single family homes – outdoor spaces, natural light, views, greenery, windowed kitchens, separate dining rooms – to an urban location.
Safdie's complex design of two L-shaped towers steps back from the river from a three story base, creating landscaped 12′ x 18′ canopied terraces. The Esplanade features bays, balconies and floor-torceiling windows to extend the living spaces, accentuating the wonderful views and brightening each home with an abundance of natural light.
Residents at The Esplanade have the exclusive use of a health club with an indoor lap and wading pool, fully equipped exercise room, his and hers saunas and a function/conference room.
The building is fully staffed with a 24 hour concierge and doorman and has porters to assist residents.
Building Amenities and Residence Finishes
The Esplanade

Doorman available seven days a week to: greet residents and guests, assist residents with packages, luggage, etc.

Concierge available 24 hours a day, seven days a week to: monitor building security system, screen visitors and announce guests, hold parcels and deliveries, arrange for theatre tickets and dinner reservations, taxis and limousines, etc.
Ensuite security system operable 24 hours a day, seven days a week includes: individually coded key pad for intrusion and emergency assistance, smoke detectors, sprinkler system.
A Four-Pipe Vertical Fan Coil Central Heating and Cooling System providing individual, thermostatically controlled heating and cooling, in different zones of each residence, at any time of the year.
On-site property management office staffed five days a week.
Comprehensive security system active 24 hours a day, seven days a week includes: alarm system for controlled access, fire safety and emergency systems.
Health Club, exclusively for residents and their guests. Features: 60-foot indoor swimming pool for laps and wading, exercise room and fitness and cardiovascular equipment, men's and women's saunas, men's and women's changing rooms.
Acoustical separation between adjacent residences equivalent to eight-inch concrete block for sound attenuation.
Utility Room equipped with General Electric washer and dryer, shelf and vinyl flooring.
Terrace and/or balcony with each residence. Wood decking on terraces and balconies.
A Gathering Room for residents' private parties and meetings.
Four levels of secured resident parking, as well as guest parking.
Double-glazed, floor-to-ceiling windows in each residence.
Entrance and interior doors are solid-core wood (closet doors are hollowcore wood) with brushed brass hardware. Terrace and balcony doors are full-height glass (doubleglazed).
Carpeting throughout in a choice of pre-selected colors.
An assigned storage locker for each residence.
Two high-speed elevators in each tower; a fifth elevator servicing most riverside residences.
Handsomely appointed lobby with sitting area, and views of the Charles River.
Coffered ceiling treatment in many foyers and kitchens. Walls and smooth-finished ceilings painted throughout in a choice of pre-selected colors.
Fireplaces in 12th- and 13th-floor residences.